About Delta Faucets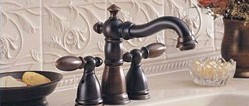 Go ahead. Turn your Delta® faucet on and off continuously for the next decade. You won't come close to matching the stringent durability tests conducted daily in the Delta Faucet Quality Assurance Department. Go on. Scrub your Delta Brilliance® finish with steel wool for a lifetime. You won't diminish its shine. That's Delta quality. Inside and out. You can rely on it.
Moving Parts
There's just one moving part inside a Delta single handle faucet. With fewer moving parts, there's less to go wrong. Delta's single stainless steel ball valve system has proven itself over decades to perform flawlessly in the most extreme conditions.
HERE'S PROOF:
The stainless steel ball valve regularly undergoes rigorous lifecycle tests simulating more than 20 years of wear-and-tear … leak free.
Every Delta faucet is tested for leaks at three different points along the manufacturing process to ensure leak-free performance right out of the box.
One Great Finish
Delta's revolutionary Brilliance finish process will change your mind about how long a faucet's finish should last. A Delta Brilliance finish will last forever. Why? Because Delta Brilliance finishes are an integral part of the faucet. In fact, Brilliance is molecularly intertwined with the faucet.
---
---