About Zodiaq® Quartz Surfaces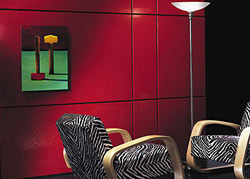 Product Visualizer >>>
DuPont introduces a new category of surfacing called quartz surfaces. Zodiaq® quartz surfaces is manufactured by DuPont and backed by a 10-year Installed Warranty. Zodiaq® provides an innovative way to create environments with a distinctive, bold and sophisticated look that expresses individuality. This product offers exciting new possibilities for surface applications in commercial and residential interiors. It also provides us with a distinct advantage in the natural stone market, because it combines nature's beauty with DuPont "magic".
Zodiaq® is a manufactured sheet product available in 3/4-inch or 1 1/8-inch (2cm or 3cm) thickness. Zodiaq® is 93% quartz crystals bound together with polymers. Zodiaq® is extremely hard (a seven on the hardness scale) and comes with a high polish finish. Zodiaq® is certified by NSF to NSF/ANSI 51 for Food Equipment Materials for food contact, which is the highest of the 3 possible levels of listing (food contact, splash zone, non-food zone).  
The quartz used in Zodiaq®, coupled with high–performance, stain-resistant polymers, results in a durable, non-porous, chemical-resistant surface that does not require "sealers". Zodiaq® is also heat and scratch resistant. With routine care, Zodiaq® will retain its radiant, lustrous appearance for many, many years to come.
There is no need to search miles and miles of granite yards for the right sheet, Zodiaq® is a manufactured product which means the sheet color is consistent. You can expect the end product to have the same appearance as the first. Zodiaq® colors come in hues of blue, green, black, brown and red. DuPont is continually broadening the color offering to make sure Zodiaq® has the desirable look and feel you want for your entire interior surfacing applications.
---
---