About Benissimo™ Systems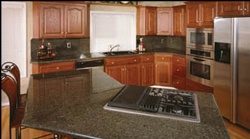 Benissimo™ Systems LLC was formed to provide innovative surface solutions to the building industry. The first product is the international patent pending Granite Solutions™. "Granite Solutions™" was designed to provide the slab granite look and feel for the 60% of the market unable to afford slab granite.
Most standard surfaces can use a combination of the above listed granite tiles, with minimal on-site cutting to match asymmetrical corners. All components have an eased edge to match the field and reach the wall using two tiles on standard 24" cabinets.

Each piece is 1-centimeter thick and the bull nose edge is a full rounded 4-centimeters. In some cases, this is twice as thick as granite slab. The edge is precision ground and polished to match the gloss on top. Much of the low cost slab today has chemically induced gloss on the edge, which will wear over time.

Granite Solutions is real granite, not a composite, and shows the natural variations of the actual stone. No two pieces are exactly the same. The highest quality granite blocks are imported from all over the world and great precautions are taken at the factory, using the finest Italian equipment, for accurate cutting and sorting. Careful attention is provided to each color to ensure precision and even variation.

Benissimo Systems deals directly with the quarries and manufactures thousands of kitchens at a time. Kitchens, fireplaces, hearths, staircases, walk-in showers, or tabletops are shipped usually within two business days of your order, from our distribution centers all over North America. Orders can be placed with your nearest tile dealer and you can order only the pieces and components needed for your particular project, saving a tremendous amount of waste. Standard tile installation and tools are all that is required to install Granite Solutions.
---
---